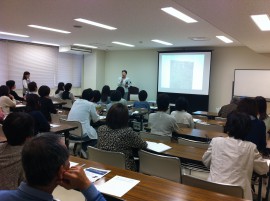 5月18日、予てから依頼を受けていた講演会が開催されました。
三重県四日市「中日文化センター」主催の
こじんまりとした「特別講演会」でした。
話題は「とっておきの世界ホテル」、
旅をするとき、優雅な時間を過ごしたいとき、
ホテルは大切なアイテムの一つ・・・と謳ったパンフレットが作られ、
中日新聞にも募集がありました。
1時間半の話に、99%女性だった聴講者の皆様は
熱心に聞き入ってくださいました。
どこにいても、女性は積極的な行動派です!
2013年5月23日
 
Lecture about Hotel
On 18th May, I had the lecture event that had already been asked some time ago.
At Yokkaichi city, Mie Prefecture, Chunichi Culture Center hosted the small "Special Lecture".
The theme was "The heartful hotels around the world".
The host made the brochure saying "Hotel is one of the precious items when you travel or you want to spend time in a gracious way…"
Also Chunichi Shimbun newspaper noticed the lecture.
Almost all of the audience was women and they listened intently to the lecture.
Women are active anywhere in the world!
23rd May 2013