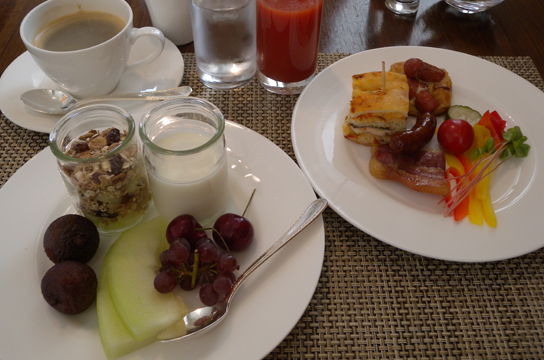 オープン直後に泊まりに行ってから早くも3年目。
久しぶりに「セント レジス 大阪」へ向かいました。
植栽したばかりの庭の緑は、すっかり青々と成長し日本庭園らしく…。
ホテルの成長を肌で感じるのは大きな歓びです。
嬉しかったのは朝食のブッフェです。
クオリティの高いアイテムが並び、朝からたっぷりといただきました。
特に手作りのオリジナルのグラノーラと
ギリシャ風ヨーグルトの組み合わせはホントに美味しかった!!
2014年8月10日
The Hotel For The First Time In 3 years
I stayed at the elegant hotel for the first time in 3 years.
It offered the better-than-expected breakfast just as I had thought!
The business has already continued for 3 years since I visited there right after the opening.
I headed for The St. Regis Osaka after so long.
Just planted greeneries in the garden at the opening have just grown
as such a Japanese garden.
It's a great pleasure to feel the growth of the hotel's business.
The joyful occasion was a buffet breakfast.
The items of high quality were lining up and I had plenty of food.
Especially, hand-made original muesli with Greek yogurt was SO nice!!
10th August 2014