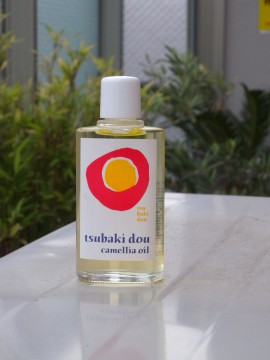 幼い頃、祖母がよく髪に使っていた"椿油"。
先日、日本の最西端にある五島列島の上五島で発見。
早速自分のためのお土産に買いました!
一番搾りしか使わないカメリア・オイルです。
資生堂の大ヒットシャンプー「TSUBAKI」の
原料も、ここ五島列島出身だそう・・・。
2014年5月5日
 
Japanese Excellent Tradition
In my childhood, my grandmother often used Camellia hair care oil
that is called" Tsubaki Abura" in Japanese.
Recently I found that in Kami-Goto of The Goto Islands
that is westernmost point in Japan.
I lost no time in buying this as my own souvenir!
It's a Camellia oil only using their first squeeze.
It's said that the raw materials of Shiseido's blockbuster shampoo
"TSUBAKI" are coming from The Goto Islands…
5th May 2014