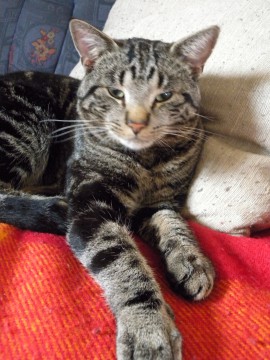 オスロの親友が1年前から買い始めたという猫、男の子1歳と少し。
普段は庭や森を散歩していて、家にはいない。
この日、珍しく昼寝に帰ってきて、3時間ほどぐっすり寝てました!
自然の中でのびのび育つ猫くんは、マイペースで、行動も自由。
ノルウェーの森が彼の庭なのです。
2013年7月1日
 
Series "I Love Animals" 〜No.5〜
Lovely Animals Around the World
Norwegian Good-looking Guy
My best friend in Oslo has been keeping a cat for a year.
He is a little over a year old.
He doesn't stay in the home usually walking around the garden and the woods.
However at that day, it just so happened that he came up to take a nap
and got a good sleep 3 straight hours!
He is growing up so freely in nature that he is going his own wayand freewheeling.
Norwegian woods are his garden.
1st July 2013