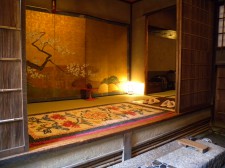 何時か泊まりたいと、すでに20年近く憧れていた京都「俵屋旅館」。
一歩宿に入ったときから、帰路の旅立ちまで、
おもてなしは記憶に残るものでした。
世辞を並べず、特に諂わず、温かく、実に自然で心地いい対応は、
300年間という老舗旅館の歴史に磨かれた"技"なのでしょうか。
2013年2月25日〜26日
 
Kyoto Tawaraya Ryokan
For almost 20 years, I have been looking for an opportunity to stay there.
It's Tawaraya Ryokan, which sits in central Kyoto.
The hospitality was memorable from crossing the gate to the departure.
They never use flattery but gave me a warm and really natural reception.
I wonder the comfortable hospitality would be "art"
refined by the 300-year classic Japanese in history.
25-26 February 2013