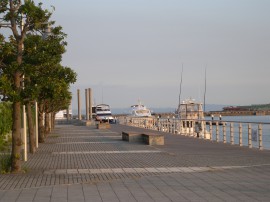 ホテルに泊まった翌朝、4時頃に目覚めました。
カーテンを開けると、空は未だ真っ暗。
そのうち群青色からブルーへ、そして間もなくピンクから
オレンジへと朝焼けが始まりました。
太陽が昇り始める6時前に、海辺に出て散歩をしたら、
若い釣り人が一人、私を見て「おはよう、今朝は気持ちいいね!」って。
9月23日、快晴の空なんて本当に久しぶりでした。
デラックスなクルーザーの並ぶ横浜のベイサイドマリーナ、
柔らかな風の吹く、雲一つ無い快晴の朝でした。
ホテルは「ベイサイドマリーナホテル横浜」、
とてもユニークで愛すべきリゾートホテルです。
http://www.baysidemarinahotel.jp/
東京からも、横浜市内からも週末を過ごしに来る人、
遊びに来る人などが、ひと味違うリゾートの空気感を味わいながら、
ここではみんなが笑顔です。
2014年9月25日
 
Do You Know Yokohama Has Such a Beautiful Resort On The Beach?
I woke up around 4am in the morning when I stayed at the hotel.
Opening the curtain and I found it was still dark in the sky.
Then it turned from ultramarine to blue and shortly from pink to orange
as the sky started to glow.
Before 6am at the dawn, I went out to the beach to take a walk
and a young fisherman called to me saying "Good morning. It's such a nice time of the day !"
It's been a while since I saw clear sky. It was 23rd September.
At Yokohama Bay Side Marina with deluxe cruisers lining up,
it was a beautiful sunny day without a cloud in the sky while it was breezing.
The hotel is Bay Side Marina Hotel Yokohama.
It's a very unique and lovely resort hotel.
http://www.baysidemarinahotel.jp/
People of Tokyo and Yokohama are coming to the hotel in the weekend
to play or to spend time are enjoying a bit different resort atmosphere.
They are all smiling here.
25 September 2014