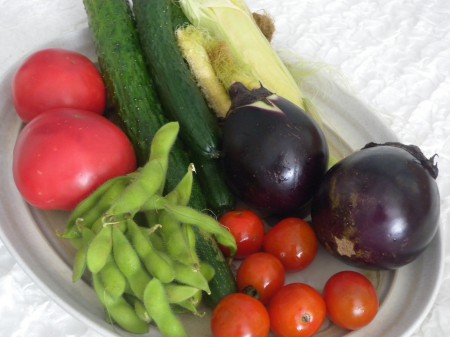 不揃いだけどちゃんと野菜の味がする
農業など全く知らないまま、今年の春に
インストラクター付の無農薬畑を1年契約しました。
東京生まれ、農業など知らない夫が、教えてもらいながら畑仕事!
そして今夏、初の収穫でした!
不揃いでも、すくすくと育った無農薬の美味しい野菜。
なんだか嬉しいです。
2015年7月16日
The first harvest in my life , somehow …I'm glad !
I do not know at all, such as agriculture,
But I have contracted for one year Pesticide-free field
with an instructor in this Spring 2015..
My husband also doesn't know either the agriculture,
But he worked in the field with an instructor,
So now in this summer we had the first Harvest.
These vegetables are not beautiful figure ,
But good taste, natural and safe, so I'm so glad with them.
16th July 2015