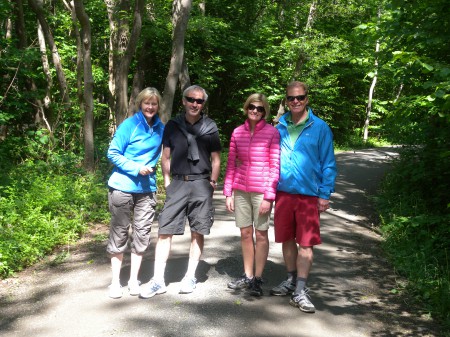 付き合いは30年以上、
私の親友、2人に会いに行きました!
13年ぶりの再会です。
普段は手紙やバースディカードや電話やメール・・・
でも、会うのがやっぱり一番!
185cmと175cmの金髪女性、
フランス・アンジェでの大学時代に知り合い意気投合して以来、
何時も一緒の私たちでした。
あの頃、私たちはモテモテの「3人娘」だったぁ~!
(年齢を重ねると、誰でも若い頃を振り返ってそう言うみたい)
写真は、今も掛け替えのない親友2人と、優しい旦那様達。
2013年7月1日
 
The Reunion in The Woods of Oslo
I visited the Norwegian capital, Oslo to see the two of my best friends for over 30 years!
It was first time to see them in 13 years.
Normally I exchange some letters, birthday cards, phone calls and e-mails…
but it's the best to meet them!
Standing at 185 centimeters and 175 centimeters, they are both blond-haired.
Since we met at the university in Angers, France, and got along so well,
we shared every moment together.
We were the dazzling trio at that time!
(actually all the women would say so when looking back their younger days)
The images above are my dearest friends and their lovely husbands.
1st July 2013