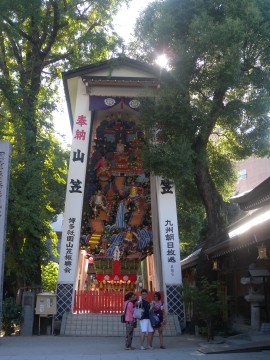 生まれて初めて、この目で見た博多祇園山笠は、
博多の櫛田神社境内に奉納されているもので常設でした。
また、その近くには、「櫛田の銀杏」とよばれる樹齢約1000年の銀杏の木が
そびえていて、「博多祝い歌」にも謡われている木は、
県の天然記念物でもあるそうです。
2013年10月1日
 
Hakata Gion Yamakasa Float at Hakata
For the first time in my life, I saw the biggest Float for Hakata Gion Yamakasa Festival
which is permanent as a display to the Kushida-jinja Shrine at Hakata .
Also, Nearly 1000 year-old gingko tree sits near the float.
It's called Kushda-no-icho (the gingko of Kushida),
and the tree is used in the line in Hakata-Iwai-Uta (Hakata Celebration Song).
It's recognized as a prefectural natural treasure as well.
1st October 2013