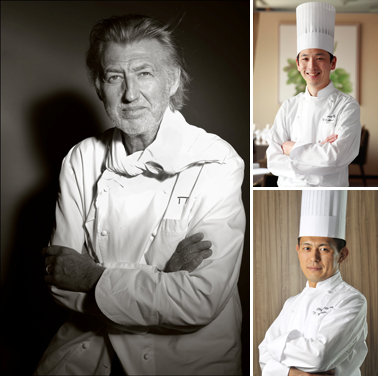 世界的な3つ星シェフとして、美食の巨匠と言われる
ピエール・ガニェール (PIERRE GAGNAIRE)氏の提携レストラン
「ピエール・ガニェール」で、この10月に食事をする機会を得ました。
36階という高層階での景色も素晴らしいですが、
次々に出されたひと皿ごとに、感動の美しさと美味しさにも驚きでした。
やっぱり料理は芸術だと再認識です。
一言加えるならば、ここのエグゼクティブシェフ(赤坂洋介氏)も、
シェフパティシエ(森谷孝弘氏)もなんと素敵な・・・
2013年12月2日
 
Beautiful French Cuisine, Pierre Gagnaire,
in ANA Intercontinental Tokyo
In the restaurant produced by world famous Star Chef,
Pierre Gagnaire in ANA Intercontinental Tokyo,
I had an opportunity to have a wonderful lunch in October.
The location of 36th floor is extraordinary
however one by one of the cuisine Pierre Gagnaire was amazing and beautiful,
I could not find any word to praise these arts..
If I say one word in addition. Executive Chef,
Mr. Akasaka, and Chef Paticier, Mr Moriya, They are also beautiful men…
like their art!
2nd December 2013