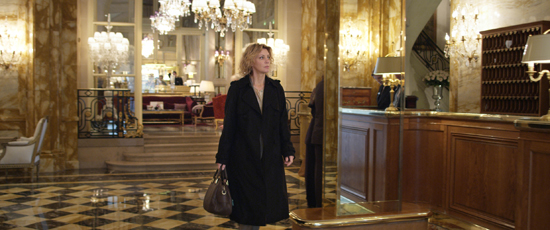 © 2013 Biancafilm Licensed by RAI S.p.A. – Rome, Italy. All Rights Reserved.
映画が大好きな私ですが、今は映画館に行くより、
飛行機の機内で観ることが多くなりました。
それでも、気に入ると再度それを観に映画館へ足を運びます。
年末にご縁があってイタリア映画「はじまりは5つ星ホテルから」という
いかにも旅心をくすぐるタイトルの映画に出会いました。
なんだか涙が出るほど感動しまくりでした!
試写会にも行き、すでに2度も観ています。
この映画、実は日本ではロードショーお正月第二弾、2月1日から
「Bunkamuraル・シネマ」にて公開される劇場版です。
内容は、5つ星ホテルにお忍びで宿泊し、
ホスピタリティや設備の高い基準を評価する"覆面調査員"の女性の話。
登場するホテルは、すべて世界の一流ホテルが舞台です。
私も今までにその殆どのホテルを取材していましたから、
懐かしいやら嬉しいやら・・・映画を観ながら胸が高鳴りました。
仕事にも恵まれ、お洒落で、美しくて優雅な主人公の女性ですが、
時々寂しくて、時々生き方に迷って・・・
家族、愛情、友情、出逢いや別れを通じて自分の人生を見つめ直す、
そんな人間臭い女性のストーリーです。
旅を続ける自分の人生を観ているようで不思議な感覚を覚えました。
映画と違うことといったら、私は、安ホテルにも泊まることでしょう。
それに、もし、この女優さんのように美しかったら・・・・。
2014年1月8日
配給:オープンセサミ、アルシネテラン
■2月1日(土)より、Bunkamuraル・シネマ他全国順次ロードショー
■公式サイト:http://www.alcine-terran.com/fivestar/
 
It Starts Off From a Five-Star Hotel
In the new year, I came across such a fantastic Italian movie!
I'm indeed a cinema addict and nowadays I watch a movie in a plane
many more times than in a theater.
Even so, when I find a movie attractive,
I get myself down to a theater to watch the movie again.
At the end of the year, It just so happened that I came across the Italian movie
"はじまりは5つ星ホテルから", the Japanese title, and the original title is "Viaggio sola".
The meaning of the Japanese title is "It starts off from a five-Star hotel"
that indeed makes people feel like setting out on a journey.
I was so deeply moved to the point of tears!
I attended the movie preview and then I watched it twice.
Actually in Japan, the movie will be released February 1 at Bunkamura LE CINÉMA
as the second round of new year movie releases.
The story is about a female inspector who secretly visits the five-star hotels
and evaluates their hospitality and the high standard of facilities.
The hotels featured in the film are the first class hotels all over the world.
I have covered almost all the hotels in the film,
so I felt excited to watch the movie, having me feel sentimental and pleased.
The heroine has quite a decent job and she is sophisticated, beautiful and elegant,
but at times she feels lonely and at loss in the middle of conventional path of life.
It's a very human narrative of a woman who contemplates her life through her family,
love, friendliness, encounter and farewell.
I felt kind of weird as if I had seen my own life of perpetual travel through the movie.
One thing that would be different from the movie is that I stay at budget hotels as well.
8th January 2014
Distribution: Open Sesame, Alcine Terran
The movie will be released on Saturday, February 1 at Bunkamura LE CINÉMA and serially other theaters all over the country.
Official site: http://www.alcine-terran.com/fivestar/