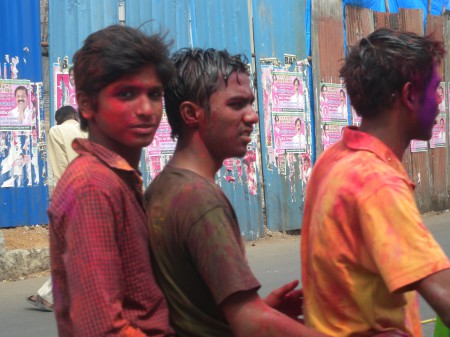 ホーリー祭はビシーチャという悪鬼を
家から追い払う為に泥や汚物を投げつけたのが始まり。
今ではカラフルな色の水を掛け合うお祭り人合っています。
3月初旬、この日は南インドのハイデラバードで遭遇。
2015年3月16日
The Indian holi day which celebrates a visit in spring
is the BREIKO, which is allowed specially for everything! 
The colorful festival of Holi is celebrated on Phalgun Purnima
which comes in February end or early March,
Colours will fill the atmosphere as people throw abeer
and gulal in the air showing great joy and mirth
in the arrival of this Spring Festival.
I was just in Hyderabad on this day in South India.
16 March 2015