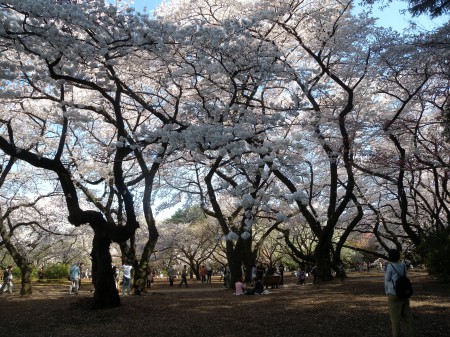 家から徒歩5分の新宿御苑、この桜の時期が最も華やぐ時。
入り口で、まるで飛行場のように荷物検査があるのをご存じ?
アルコール類が禁止なので、ハンドバックも荷物も点検です。
だからバカ騒ぎも少なく、みんな、静かに食べて喋ってピクニック。
気持ちが良いのです~。
今年も無事に桜が見られて、幸せです。
2015年3月31日
Cherry trees bloomed beautifully in this spring 2015 !
To go to Shinjuku Gyoen National Garden takes
only 5 minutes on foot from my home,
this park becomes most brilliant and beautiful by cherry trees..
Do you know that there is baggage check just like an airport at the entrance?
Alcoholic beverages are prohibited, so every handbags and baggages are checked.
So in the Park everyone just eats and chats for pinic,
do not horseplay and neither get drunk…..
Extremely comfortable, I'm happy to watch SAKURA blossom like usual spring.
31 March 2015