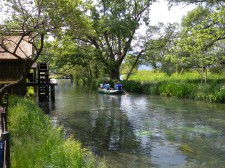 素晴らしい天候に恵まれた'五月晴れ'の週末、雪の残る北アルプス連峰の
全景を望む安曇野にいた。
思わずシャッターを切ったのは、英国のテムズ川上流で見た景色と重なる、
平和で、穏やかで、美しい光景。
新緑の眩しい木々、ワサビ田を縫って流れる澄んだ川、冷たい空気。
幸せな時間が流れるなかで、日本の田舎のあまりに美しい情景に、改めて感動した。
やっぱり、こうした光景は私たち国民の財産、一人ひとりが守らなければ・・・と思う。
世界中の人に見せてあげたい!
 
Picture Perfect View
On a weekend with perfect May weather, I was in the picturesque Azumino, overlooking the snow-capped Northern Alps.
I found myself shooting a photo of a serene, beautiful view, reminiscent of the upper reaches of Thames river. Sprouting bright greens of the trees, clear streams weaving through wasabi paddies, crisp air. In this blissful moment, I was reminded of the magnificent beauty of the Japanese countryside, and must preserve such scenery as its citizen.
This beauty is something I want to share with the whole world!