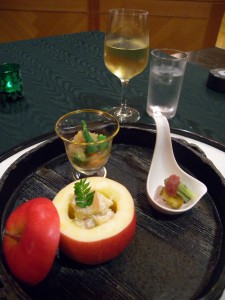 この9月18日から「奥入瀬渓流ホテル」に宿泊しました。
そろそろ林檎の季節になろうとしている矢先、
青森では36.1℃を記録するなど、日本各地と同様に
なかなか秋になろうとしません。
それでも、早生林檎が出回るようになり
ホテルの客室には「ウェルカム・フルーツ」として
林檎がたくさん置かれていました。
かごの側には小さなメッセージカードが添えられ、
「好きなだけお持ち帰りになってください」と。
青森の林檎は本当に美味しい!
青森の生んだ宝物です。
 
Apple Season
From September 18th, I was staying at "Oirase-keiryu Hotel".
With the apple picking season right around the corner,
Aomori recorded 36.1°C (97°F), and as with everywhere else in Japan, autumn is taking its time to arrive..
Even with the belated fall, the season's earliest apples began appearing, and many of them were set in the hotel guest rooms as "welcome fruits"
The little message card by the basket read, "Please take home as many as you would like." Aomori's apples are really delicious! They are the jems of Aomori.