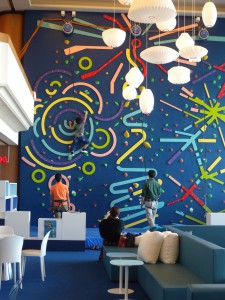 子供達だけではなく、
大人にもいろいろと挑戦したいものは大いにあります!
トライしてみたい・・・と心から思ったのは、
「親子の北壁:クライミングウォール」でした。
昔、山女だった私の虫が騒いだわぁ~。
この壁はヨーロッパの北壁「アイガー」をイメージしたとか。
なんたって、私はその山の麓の村、グリンデルワルトで
働いていたんですから、熱くなるのも当然かも。
舞台は、星野リゾート「リゾナーレ熱海」でした。
 
One of the Amazing Activities in Resorts
Not only children but also we adults have many things to challenge!
What I enthusiastically wanted to try was the "North Face for Parent and Child: Climbing Wall".
It inspired me a lot since I had been really into climbing.
I heard that the indoor climbing wall is associated with the north face of the Eiger in Europe.
No wonder that I got really excited with that, as I had worked in the village of Grindelwald,
at the foot of the Eiger.
The climbing wall is found in RISONARE Atami by Hoshino Resorts.