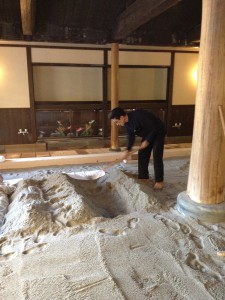 温泉は数え切れないほど行っていますが、
「砂風呂」は、生まれて初めての体験でした。
まずその重さと、けっこうな砂の熱さにも驚きました。
そして、もっとゆっくりと入るものかと思ったら、
ここ古湯温泉では20分が普通とか。
外気温のとても低い日だったので
30分ほど入り、汗だくになりました。
後で身体が軽くなり、とても気持ちが良かったです。
http://www.oncri.com/
2012年12月某日
 
A Sand Bath at Furuyu Hot Spring in ONCRI
Taking a sand bath was my first-ever experience though I have soaked in hot springs so many times.
I was surprised by the weight and decent heat of the sand.
And it's said 20 minutes are normal when people take a sand bath here in Furuyu in Saga Prefecture, but I thought we took much longer.
The weather of that day was freezing outside, I took the sand bath about 30 minutes and I was covered in sweat.
After sand bath, I felt lighter and so good.
http://www.oncri.com/
Certain day December 2012