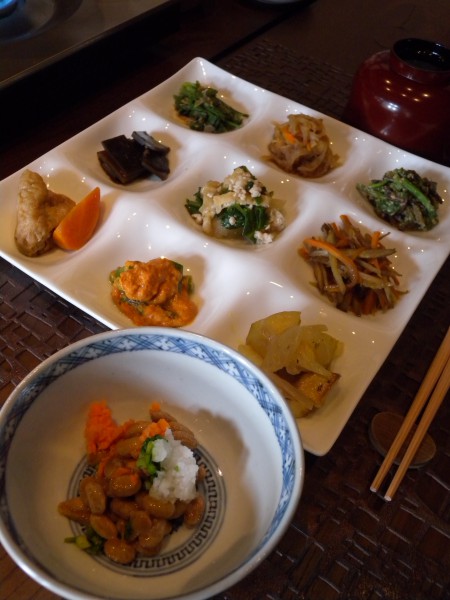 朝ご飯のおかずの一部、健康的で美味しい地元産の旬菜が並ぶ、最高のご飯とともに。
新潟・越後湯沢は日本一の米野産地、
しかも超一流のブランド米「こしひかり」の産地です。
温泉のある宿「里山十帖」では、そのブランド米を
目の前で釜焚きして食べさせてくれます。
野菜中心の料理も絶品、でも、このお米の美味しさには
誰もが言葉を失うほどです。
特にこの時期は新米が・・・。

里山十帖:http://www.satoyama-jujo.com/
2015年11月9日
Autumn bloom to Kome-dokoro(Rice Production Area)
Niigata Echigoyuzawa is the most known
As the Rice production area in Japan,
Brand rice "Koshihikari".
In the inn "Satoyama Jujo" with hot springs,
They are serving just now the delicious new rice
which was produced this autumun.
Although vegetables cuisine of Satoyama-jujo is so delicious,
But everyone loses words for this new rarity rice.
SATOYAMA JUJO: http://en.satoyama-jujo.com/
9 November 2015