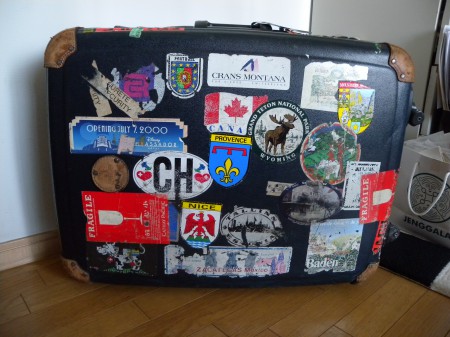 ここ7年ほどずっと使っていなかったスーツケースですが、
捨てることにしました!
私と共に地球を何度も旅をした思い出が詰まっているので
捨てられなかったのですが、お気に入りで6年ぐらい愛用しました。
旅の多い私のスーツケースは直ぐに壊れて(壊されて)しまう、消耗品。
日本のように丁寧に荷物を扱ってくれる飛行場は珍しいですから・・・。
今使っているのは、このバッグからもう3代目。
ジャーナリストになって20年目、全5~6本のスーツケースを、
いつも旅の長さによって使い分けています。
2014年5月18日
 
Sayonara, See you again!
I decided to let go of my suitcase that I have not used for almost 7 years!
I had used the favorite suitcase regularly for about 6 years and I couldn't discard it
since it was packed with my memory of travels that I brought it with me all around the world.
I'm a frequent traveler and my suitcases are expendable items
broken easily (or someone brake).
Airport services rarely handle the baggage so carefully like Japan…
The current one is the third generation from this bag.
It's been 20 years since I became a journalist and I usually use 5-6 suitcases
depending on the travel time frame.
18th May 2014