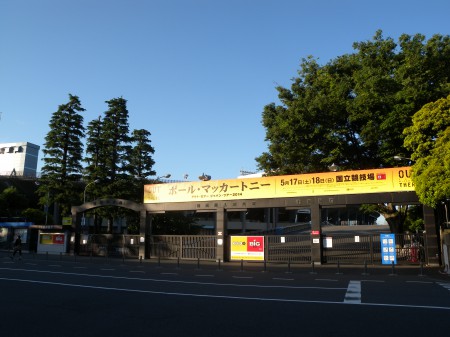 昨年来日したばかりのスーパースター、ポール・マッカートニーさんの
国立競技場最後のコンサートが5月17日、18日に開催されることに。
でも昨日、千駄ヶ谷付近は「ポール急病のためコンサート中止!」の
知らせが出され、騒然としていました。
それにしても、久しぶりで強烈な「ダフ屋」が
何人もいた駅前に驚きました。
今日も晴天、今夜はコンサートが出来るでしょうか。
ポールさんの状態が心配です。
私は部屋の窓を開けてコンサートを聴くつもり・・・無料です。
実は中学生の時に、日本にやってきたビートルズを見に
もとのヒルトンホテル(現ザ・キャピトルホテル東急)に。
ハッピを着て、窓から手を振る4人の姿が忘れられません。
2014年5月18日
 
The Last Superstar at National Stadium
Mr. Paul McCartney is going to play a final concert at the existing National Stadium
on May 17th and 18th. He just visited Japan last year.
But yesterday the notice "Paul cancels his concerts due to his sudden illness!" was posted
and around Sendagaya the crowd seethed from the news.
At any rate, I was surprised to see real scalpers in front of the station for the first time in years.
It's sunny day as well and would he be able to play tonight?
I would hear he sing opening the window in my home…it's free.
Actually, in my junior high-school days, I went to Hilton hotel at that time
(now it's The Capitol Hotel Tokyu) to see the Beatles coming to Japan.
I couldn't forget the four members waving their hands from the window.
18th May 2014