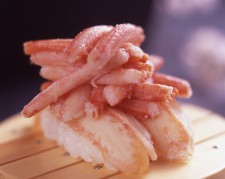 photo by Sushi-no-suke
回転寿司って、昔は安いだけのことはあったけれど、
今の回転寿司はホントに凄いと思います。
最近、友人の友人がまたまた新店舗を開店したというので、
そのお祝いを兼ねて"ただ食い"にありつきました。
驚くこと無かれ、その新鮮さやネタの良さ、酢飯の
美味しさには脱帽・・・でした!
名前は「回転寿司 すし之助」
という町田店でしたが、進化してますね、回転寿司。
こだわりは"こぼれ寿司"と謳うこぼれるほどのネタです。
さすがに一皿100円などと安い料金が売りではありませんが、
ネタの上質さも、清潔さも一流でしたよ!
日本の食文化って、やっぱり、世界一だと思うなぁ。
今なら絶対世界に受け入れられる、世界進出も夢じゃない!
近かったら毎日食べに行くのに・・・。
 
It is amazing, evolution of the Revolving Sushi !
Revolving Sushi (self-serve sushi served on a revolving conveyer belt) has come a long way since the time when the only advantage was the price.
A friend of my friend recently opened a revolving sushi restaurant and I was invited there to celebrate its opening. With fresh sushi toppings and the perfectly seasoned sushi rice, this restaurant was absolutely beyond expectations !
This new species of sushi evolution was the Machida branch of Revolving Sushi Sushi-no-suke Their signature dish, 'sushi overflow' has toppings literally overflowing from the rice. The quality of the sushi and the top class cleanliness sets this place aside, not from the popular price like 100 yen but with reasonable price per dish variety of establishments.
I think the Japanese culinary culture is one of the best in the world.