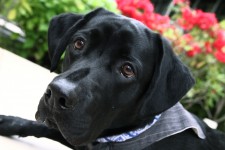 2年前に突然やってきた
「ハイアットリージェンシー箱根」のホテル犬の男の子「ハル」。
ベイビー時代はやんちゃでしたが、今は2歳。
立派なホテル犬となって、ゲストのお出迎えや見送りをしています。
驚きは、マガジンハウス刊の雑誌「Tarzan」に連載までしてる!!
あんなに元気で駆け回っていたそのホテル犬ハルが、
しばらく前に交通事故に遭い、右足が不自由になりました。
切れてしまった神経は治らないと宣言されてしまったそうです。
今もまだ長い時間をかけてリハビリに頑張っているのですが、
ギブスはしばらく取れないかも知れない。
頑張れ!!ハル・・・。
 
Series "I Love Animals" 〜No.2〜
Japan's First Hotel Employee Dog Even Carrying ID Card
Suddenly he came there 2 years ago.
His name is "Haru", the employee dog of Hyatt Regency Hakone Resort and Spa.
He is 2 years old now, though he was a naughty child.
He has become honorable "Dog in Residence" of the hotel welcoming guests and seeing them off.
I was surprised to see that he was even contributing regular articles on MAGAZINE HOUSE's Tarzan magazine.
Unfortunately, he got into a car accident a while ago. That restricts movement in his right leg. I remember him running around so cheerfully.
He was told that his damaged nerves wouldn't be cured.
He is undergoing long sessions of rehabilitation very hard, but his plaster cast might not be removed for a while.
Hang in there!! Haru.