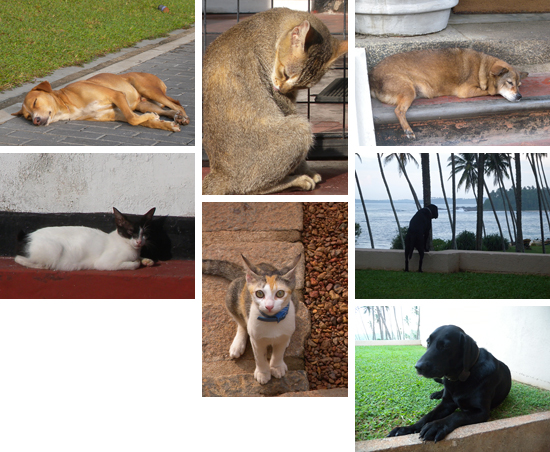 7年ぶりのスリランカで出会った猫と犬。
最初はスリランカ南部の世界遺産ゴールフォートで出会った猫と犬。
印象的な白黒のノラ猫は性格が可愛かった!
ブルーの首輪の猫はお洒落なカフェで飼われているベイビー。
場所は変わって、海岸沿いの村タンガッレにあるアマンリゾーツ
「アマンウェラ」のGMが飼っている、とってもやんちゃなホテルドック。
黒のラブラドール、贅沢にもアマンが遊び場です。
2012年11月某日
 
Series "I Love Animals" 〜No.4〜
Lovely Animals Around the World
Dogs and Cats I met in Sri Lanka that I visited for the first time in 7 years.
First off were they at Galle Fort, World Heritage site, in the south of Sri Lanka.
The impressive black-and-white cat had a cute personality!
A stylish cafe keeps a baby cat with a blue collar.
Moving to Amanresorts where stands in the seaside village, Tangalla.
General Manager of Amanwella keeps a very naughty hotel dog.
For the black Labrador, the playground is Amanwella, though it's too luxury.
Certain day November 2012