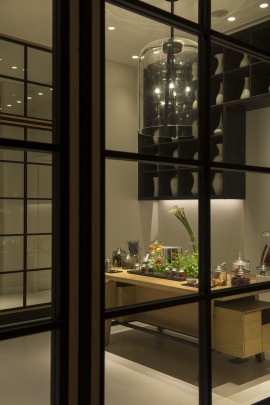 虎の門ヒルズ内に新しくオープンした話題のホテル、
「Andaz Tokyo」(アンダーズ東京)に泊まりました。
日本初、世界で12軒目。
コンセプトは"ライフスタイルホテル"、
地域性も個性も、斬新さも備えています。
それにしても、テーラーメイドのトリートメントを提供する
『スパ&クラブAO』のセラピストは技術力のある女性で、
気持ちの良い時間を過ごしました!
37階、1350m²の広さを誇るスペーシーな造りも
なかなか快適でした・・・
2014年9月1日
 
One night in the New Hotel
I stayed one night in the Very New Hotel [ Andaz Tokyo ],
Which is a part of TORANOM Hills New Complex..
This hotel Brand is the first one in Japan, 12th in the world.
And it's concept is 'Life style Hotel',
Which has a charm of Tokyo and individuality and originality.
The most impressive part is the SPA,
They provide a talor-made treatment to each person.
And a therapist to me was so cool and nice!
Her technique is also in high level, I spent a good time.
On 37th floor, the space is very huge of 1350m²,
It is quite Impressive Spa.
1st September 2014