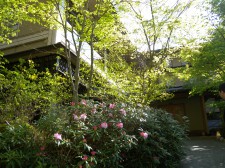 縁あって何度も訪れている長野県松本市扉温泉の「明神館」でこの週末を過ごした。
宿を包む春爛漫の山にはちょうど山桜が咲き誇り、目映いほどの新緑といっしょの感動的な景色が展開されていた。ゴールデンウィークはとっくに終わっているのに、この「明神館」は、満室。人気の秘訣は言うまでもなく、環境、サービス、手を抜かない食事。そしてもちろん、良質の温泉も。
でも顧客達にはそれらは、お気に入りの旅館だから当然のこと。顧客にとって、クオリティが下がることにはとても敏感なのだ。
それでも季節に限らず、いつでも賑わっている理由は? そう、いつも何かしら新しい感動があること。「進化する旅館」でありながら伝統も守る、進化しながらもクオリティが変わらない。これぞ信頼感!
 
Spring Time in a Hot Spring
I spent the weekend at the Tobira Hot Springs "Myojinkan" in Matsumoto, Nagano, a place I have a tie to and returned periodically.
The mountain cherry blossoms in full bloom and the bright new green of the spring were caping the inn with a gorgeous backdrop. Although the long weekend of "Golden week" has already passed, "Myojinkan" was fully booked. Needless to say, the secrets to success of this Ryokan are its setting, service, well-crafted meals, and the quality of hot spring.
But these are criteria patrons look for in any Ryokan (inn). The reason this Ryokan never have a low-season is because it always provides a new experience with each stay. Patrons are sensitive to even the slightest slip in the quality of the stay. An innovative Ryokan with long standing traditions, progressing without compromising the quality. Now, this is reliability!