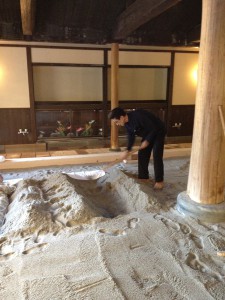 佐賀県の秘境、古湯温泉「ONCRI/おんくり」でのことです。
http://www.oncri.com/
今までずっと試したいと思っていた「天然砂蒸し風呂」に
生まれて初めて入りました。
「砂」はただの砂はでなく、マイナスイオンや遠赤外線効果のある
トルマリンや、麦飯石などが使われているなんて、知らなかった!
さらに長い時間入るのかと思ったら、平均15~20分だそう。
けっこう熱い温泉が下を通り砂を温めていることで、
長く入りすぎるとフラフラになる可能性有り。
新陳代謝を良くし、血行促進、細胞の活性化も効果有り。
昔の人はよく考えたものですよね。
2012年12月18日~20日
 
My First Experience Ever
It was when I visited ONCRI in Furuyu Hot Spring hidden from the central part of Saga Prefecture. http://www.oncri.com/
For the first time I took a "Natural Sand Steam Bath" I had been really eager to try.
I never knew that the "sand" was not the common sand but are contained tourmaline and heal stone that are said to have negative ion and a far infrared effect !
I heard that the average hour of use is 15-20 minutes though I thought we should use much longer.
The hot sand was heated by the very hot spring flowing under the sand that if you took too much you would feel dizzy.
The bath would increase metabolism and blood circulation and also lead activation of cell.
Ancient wisdom remains useful even today.
18th to 20th December 2012