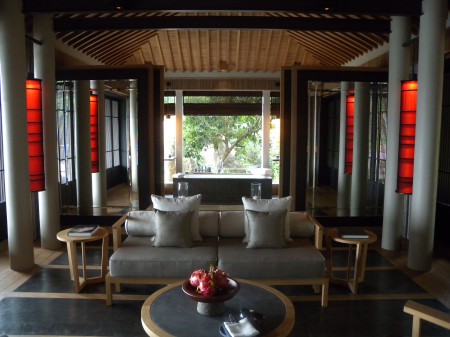 ベトナム中南部の海に面した静かな湾に、
小さな漁村Vinh Hy Village (ビン・ヒ・ヴィレッジ)があります。
26番目となる新しいアマンリゾーツ「AMANO'I」(アマノイ・平和なる場所の意味)は、
その村の近く、Nui Chua(ヌイ・チュア)国立公園内に、
2013年9月1日にグランドオープンしました。
周囲には何もなく、ただ、奇岩の多い山並みが続き、
ハイダウェイとしての醍醐味は完璧です。
客室であるパヴィリオンからは美しいビーチやヴィン・ヒ湾を見下ろし、
希に見る奇岩の山々に囲まれた自然環境で、静寂と、
豪華で静謐なリゾートを堪能するための「アマノイ」がデビューしました。
http://www.amanresorts.com/
2013年10月1日
 
New Hideaway Resort in Viet Nam
There is a small fishing village, Vinh Hy Village,
at the tranquil bay facing the sea of South-Central Viet Nam.
Amanresorts announced the Grand Opening on September 1, 2013,
their 26th new resort "AMANOI" which means "place of peace" in Nui Chua national park near the village.
There is nothing to visit around the resort but we can enjoy the site of mountains
with strange rocks as perfect hideaway settings.
From the pavilions for our accommodation you can overlook a beautiful beach and Vinh Hy Bay.
With rare natural environment surrounded by mountains with strange rocks,
"AMANOI" debuts for those who want to enjoy the gorgeous and tranquil resort.
1st October 2013