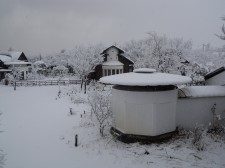 2012年の末、上越新幹線が雪のために送電線が切れて
動かなくなった日がありました。
その日、悪夢のような経験をしたのです。
行きは東京駅から新潟駅まで直行新幹線で1時間40分、
澄みきった空の下で「カーブドッチ」を目指したのです。
http://www.vinespa.jp/
ワイナリィと温泉と、アヴェダのスパサロンがある贅沢なリゾートです。
午後になって突風が吹き始め、かつて経験したことの無い
強風と、おかしな天気に不安を感じていました。
夜は余りの強風に停電、暖房も切れて宿泊施設は真冬の寒さの中に。
電気が戻ったのは深夜2時頃のことでした。
翌朝、深閑とした空気にカーテンを空けると、なんと、
やっぱり雪。しかも30センチ以上も積もり、
一面は白銀の景色と化していました。
夕方4時頃の帰京予定を切り上げ、朝一番で新潟駅まで
送ってもらったのですが、上越線は停電で全線不通。
それでもホームにいた新幹線に乗り込み、走るともわからない
満員列車で立ったまま4時間、170%乗車の列車は
昼過ぎに動き始めたのですが・・・途中で又止まりました。
翌日から海外出張が決まっており、なんとしてでも
東京に戻らないと行けなかった私は、いろんな列車を乗り継ぎ
9時間半かけて東京になんとか辿り着きました。
「行きはよいよい、帰りは…」とはこのことです。
2012年12月某日
 
Turned into White Winery over One Night
This is the story that it's like" Sweet meat will have sour sauce".
A day at the end of 2012, Joetsu Shinkansen for Niigata(One of the super express train) was out of service by outage due to the snowing.
It was a nightmare day for me.
I was heading for[ Cave d'Occi] under a clear sky taking Joestu Shinkansen from Tokyo to Niigata just 1h 40m in.(http://www.vinespa.jp/)
Cave d'Occi is a luxury winery resort that has some hot springs and the Aveda Spa salon.
In the afternoon, a sudden gust of wind came and I was anxious about the storm I had never experienced and odd weather.
Then in the night so heavy storm knocked out power and the heater was turned off and it left me in the cruel cold. It was around 2AM midnight that power restored
In the next morning I found it was snowing when I opened the curtain feeling the chilly air. It was a snowy world over 30cm fall of snow.
I was taken to the Niigata station in the early morning after changing the plan to take train at 4PM.But the Joetsu Shinkansen was already out of service due to the outage. I managed to ride the Shinkansen stopped at the platform. Standing even for 4 hours in this Shinkansen packed full to wait for the departure, this train pulled out finally in early afternoon, but halted often along the way.
As my overseas trip was scheduled from the next day, I came back to Tokyo after 9 and half hours.
Certain day December 2012