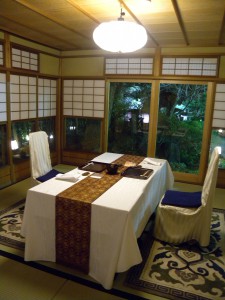 めったにない豪華な日々となった京都2泊3日の旅。
今回の京都の旅では1泊は「俵屋旅館」、
もう1泊は「ハイアットリージェンシー京都」に泊まり、
その日の夜は「下鴨茶寮」に出かけました。
伝統的ではありましたが、どこか新しいエッセンスが感じられた
素晴らしい食事に舌鼓。
今回は「俵屋旅館」に脱帽、「下鴨茶寮」に新鮮な驚き。
何度も泊まっているハイアットリージェンシーですが、
毎回、大いに安心して寛げるホテル。
京都の贅沢三昧は人生のエッセンスでした。
2013年3月1日
 
What a Superb Dinner at Shimogamo Saryo in Kyoto!
The 3 day-trip to Kyoto was such a lavish one that I had rarely experienced.
On the first day's night, I stayed in Tawaraya Ryokan.
Hyatt Regency Kyoto was the next day's accommodation.
And on the night I went out to Shimogamo Saryo.
I savored the taste of the dishes that was not only traditional but something novel.
My hat off to Tawaraya and my jaw dropped in Shimogamo Saryo.
I have stayed many times at Hyatt Regency. That provides pure relaxation every time I visit.
The sheer indulgence of luxury in Kyoto made me grasp the essence of life.
1st March 2013