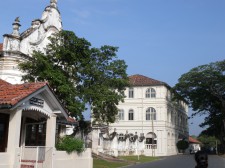 スリランカ行きは3度目でしたが、最後に訪れてから
すでに7年以上が過ぎていました。
まず降り立ったコロンボは、経済発展が進み
賑わい活力のある空気が伝わってきます。
1泊後、アマンリゾーツの「アマンガラ」から
「アマンウェラ」を目指すためにコロンボを出発。
以前は国内線でゴールまで飛んでいましたが、
今回は、日本のゼネコンが作ったという高速道路が
丁度開通したばかりということで、
迎えを頼んだ「アマンガラ」の車でゴールフォートを目指しました。
看板も道の様子も、日本の高速道路にそっくりでした。
3時間弱で、世界遺産の町ゴールフォートに到着。
「アマンガラ」は変わらずに美しく、
コロニアル建築の白亜の姿のままに佇んでいました。
これほど美しいホテルは、世界広しといえどそうそうありません。
2012年11月22日~29日
 
Sri Lanka for the First Time in 7 Years,
from Colombo to Galle
It was the third visit to Sri Lanka for me and more than seven years had already passed from the last stay.
I initially landed in Colombo that is growing rapidly and has vibrant atmosphere.
After overnight stay at Colombo, I was heading for Amanresorts' Amangalla and Amanwella.
In the past I flew to Galle by air from Colombo.
But this time Amangalla's limousine took me to Galle Fort by the high way that was reportedly built by a Japanese general contractor. The recently opened high way looks like ones in Japan as well as the traffic signs.
In less than 3 hours, the car got to Galle Fort, the town of the World Heritage site.
Amangalla had remained beautiful and stood as a chalky colonial-style architecture.
I have never seen such a magnificent hotel in the world.
22nd to 29th November 2012