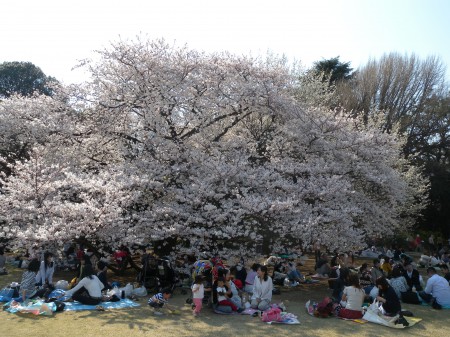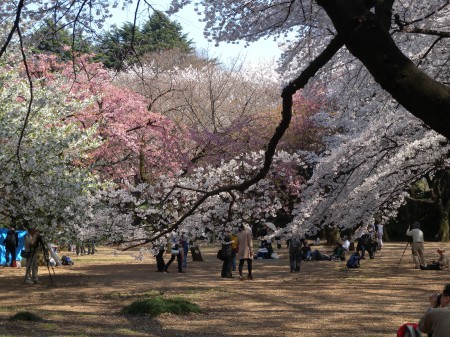 今年も恒例となった新宿御苑でのお花見をしました。
御苑は家から歩いて10分の距離にあり、
何かにつけて御苑に行くために、年間パスポートも買っています。
中でも花見の時期は、御苑が最も賑わう季節。
お酒とタバコとカラオケ、動物が禁じられているため、
ワイワイがやがやしながらも、何となく静かな花見が出来るのです。
だから、御苑が好きです。
それでも内緒でお酒を持ちこんで、乾杯!なんて人も
たまに見かけますが、係員に注意され、仕方なく仕舞っています。
今年の桜もキレイでした!
新宿御苑には、30種もの桜の種類があり、
次々に咲いて、訪れる人を喜ばせてくれています。
満開の桜の花は、どうしてこれほどに私たち日本人を
高揚させ感動させるのでしょうね・・・?
2013年5月5日
 
The Japanese Fondness for Cherry Blossoms
After all, when I see cherry blossoms my heart is filled with happiness.
This year, I enjoyed cherry-blossom viewing at Shinjuku Gyoen National Garden
as it's customary for me every year.
It takes 10 minutes from my house by walk and I often walk around in the garden
so I bought an annual pass as well.
Above all, in the season for cherry-blossom viewing it's full of people there.
It is prohibited to bring alcohol, tobacco, karaoke and animal into the garden
so people can enjoy somewhat quiet cherry-blossom viewing though it's still bustling.
That's why I like Shinjuku Gyoen.
Some people smuggle alcohol into the garden and drink it up,
but officials warn them and people reluctantly stop drinking.
The cherry blossoms were beautiful again this year!
Shinjuku Gyoen has 30 kinds of cherry trees
and they bloom one after another.
It pleases the visitors.
Why do these full-blown cherry blossoms uplift
and move the hearts of the Japanese people so much?
5th May 2013